From your shower first thing in the morning to chores like doing the dishes and laundry to bathing the kids at night, your hot water heater helps keep your household running smoothly all day long. That's why you need to call Affordable Heating & AC LLC at the first sign of water heater trouble. It's easy to take your hot water heater for granted, but only until something goes wrong! Whether you're anticipating the need to replace your hot water heater in the next few months or you're experiencing a sudden malfunction, our master plumbers in Boston and Plymouth County can help. Armed with decades of hands-on experience, our team has the knowledge and expertise to take care of all of your hot water heater needs. So don't suffer without hot water for long! We're here to provide complete water heater installation and repair to get your water heater back in working order ASAP.
Repair and Installation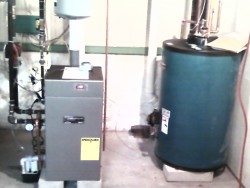 Providing full-service hot water heater repairs and installations, Affordable Heating & AC LLC is the plumber you can count on to keep your water heater in tip-top condition. With nearly 30 years of experience in the industry, we're fully qualified to handle all types of water heater repair for both electric and gas water heaters. From broken thermostats to leaky tanks, we should be able to help! So if your hot water heater is malfunctioning, call our master plumbers today. We'll evaluate your unit to diagnose the problem and then provide complete, correct repairs to ensure you get the hot water you need for your daily life. Whether you need hot water heater installation or troubleshooting and repairs, Affordable Heating & AC LLC is here to take great care of you.
Tankless Water Heaters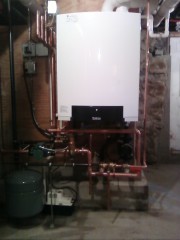 If it's time to replace your water heater or if you're looking for the right hot water heater for your new construction home, why not consider a tankless hot water heater! Popular in Europe for decades, tankless water heaters are becoming increasingly popular in the United States because of their energy-efficient performance, small size, and other great benefits. Tankless hot water heaters heat the water as you use it, meaning they only use energy when you're actually running the water. On the other hand, traditional water heaters store hot water in large tanks—and to keep that water hot until you need it, these units are constantly cycling on and off, using energy all day long! Providing as much hot water as you want when you want it, a tankless water heater still provides substantial energy savings over a traditional water heater. And because they don't have a large reservoir to hold water, tankless hot water heaters are small and compact, enabling you to install them just about anywhere. Get the energy-efficient performance of a tankless water heater today!
At Affordable Heating & AC LLC, our plumbers are available to answer all of your questions about tankless water heaters. We work with both traditional hot water heaters and tankless models, and we'll help you make an informed decision about which style is best for your needs and your home. Offering complete correct installation workmanship no matter which type of water heater you selection, our master plumbers are here to take care of all of your hot water needs.