From furnace repair to boiler repair, Affordable Heating & AC LLC is your full-service HVAC contractor in Boston and Plymouth County. Providing complete heating system maintenance, we offer the boiler repair and installation services you can count on to keep your home warm no matter how low the thermostat dips this winter. Bringing you top-quality workmanship, convenient service, and great prices, we're the furnace company to call for furnace and boiler repairs. We service both steam and hot water boilers from a variety of manufacturers, so no matter what model you have we should be able to help. Let the professionals at Affordable Heating & AC LLC put their nearly 30 years of experience to work for you!
Boiler Repair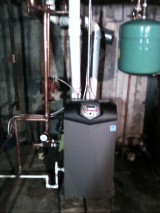 We also offer a broad selection of boiler upgrades for older models to help you keep your boiler working safely and efficiently: from replacing the pilot light with a spark ignition to replacing leaky valves, Affordable Heating & AC LLC provides the maintenance services you need to keep even older boilers in great working order. For full-service boiler repairs, we're the professionals you can trust.
Boiler Installation
Ready to upgrade to a high-efficiency gas boiler? Need to replace your old, broken-down boiler? No matter why you need boiler replacement or new boiler installation, Affordable Heating & AC LLC can help. We're your convenient one-stop shop for boiler installation and repair in Boston! Our expert HVAC contractors can provide you with all the information you need to select the ideal boiler heating system for your home, ensuring you get the best quality boiler installation. At Affordable Heating & AC LLC, we're qualified to install the most efficient residential gas boilers on the market today—if you're ready to heat your home for less, call today for more information!