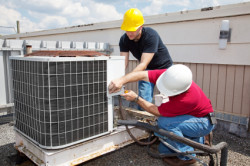 Between the heat and the humidity, summer in Boston can be sticky and uncomfortably hot. Fight back against the heat of summer with the HVAC contractors at Affordable Heating & AC LLC. Offering a full range of air conditioning repair and installation services, our professionals can bring you the cool luxury of an air conditioner in peak condition. From installing ductless central air conditioning to repairing malfunctioning air conditioners, Affordable Heating & AC LLC is your solution for a cool, comfortable summer. We're ready to put our decades of experience to work for you, bringing you the top-quality air conditioning repair service you deserve at a great price. Learn more when you call today!
Air Conditioning Repair
When your AC quits working, don't wait to call Affordable Heating & AC LLC. Our HVAC contractors can provide the air conditioning repair service you need to get your air conditioner back in top condition—and cooling your home again. We're fully licensed and insured, and our team has nearly 30 years of experience providing professional air conditioning repair in Boston. We'll examine your air conditioner to determine the cause of the problem, providing complete, correct repairs for both the source and the symptom of the issue. Whether the compressor has called it quits or your central air isn't circulating the cold air it is producing, Affordable Heating & AC LLC can help. You don't have to suffer in the heat—we're your air conditioning contractors in Boston and Plymouth County.
Air Conditioner Installation
While just about anyone can stick a window unit in, you need professionals you can trust for installing any more extensive air conditioning systems. At Affordable Heating & AC LLC, we provide complete central air installation, including ductless air conditioning systems. We'll help you select the right air conditioner for your home and your needs and ensure it's sized appropriately to adequately cool your space. We're available for both new and replacement central air conditioning installation. Offering efficient, effective air conditioner installation services, our air conditioning contractors are here to help ensure you stay cool this summer. Have questions? We'd love to provide you with any information you need. Just call or e-mail us.